What are the best Dorset coastal towns?
If you are looking to move to one of the best Dorset coastal towns, this is the blog for you!
Living in Dorset provides locals with a range of excellent benefits.
Dorset coastal towns are some of the most sought after locations throughout the whole of the UK!
Providing a range of breath-taking spots, it is no surprise that Dorset coastal towns are one of the biggest factors that bring buyers to the area.
Property prices across the UK have been gradually increasing throughout the course of the last 12 months.
Understandably, the appeal of moving to one of the many excellent Dorset coastal towns has risen.
Many of these locations offer great value coastal homes.
Dorset coastal towns present lots of space whilst also ensuring locals have access to a range of outstanding amenities.
If you are thinking of living in one of the best Dorset coastal towns, there are various locations to choose from.
Dorset coastal towns offer spectacular coastlines, exceptional landscapes, and some wonderful properties.
It is clear to see why Dorset coastal towns make the ideal home for so many different buyers.
With a range of excellent towns to select between, it can seem hard to start your search!
Relocating to one of these Dorset coastal towns is sure to appeal, regardless of your individual needs.
Here are our 6 top picks for the best Dorset coastal towns.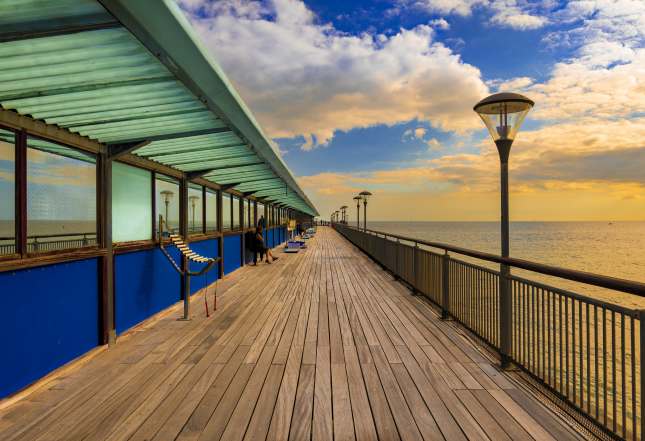 Boscombe
The town of Boscombe, home to around 21,000 sits two miles away from the wonderful town of Bournemouth, however, it is totally individual and has an appeal all of its own.
For one thing, property prices are cheaper than its larger neighbour by an average of around £40,000 and, it is still possible to buy a one-bedroom flat for £100,000!
Boscombe also has its own long stretches of sandy beachfront, plus an artificial surf reef and a Victorian pier where everyone can enjoy a game of mini golf.
Residents have the benefit of being able to take in the stunning cliff top walks offering wide-reaching views over the ocean.
Alternatively, Boscombe Cliff Gardens merges into the Boscombe Overcliff Local Nature Reserve so you can really make the most of the outdoors all year round.
There is always something going on too. Live music, bars, pubs, and restaurants galore and lots of green spaces.
If you are searching for your forever home, there are numerous architectural styles within the town, ranging from the elaborate Victorian styled properties to the modernist 1950s style homes.
Historically been seen as a retirement destination, modern apartment developments such as The Reef, The Point and Honeycombe Beach have really attracted a much younger age group to Boscombe and given it a much more updated trendy vibe.
It is very much a cliché, but Boscombe really does offer something for everyone.
Weymouth
This Dorset town has been a tourist destination for centuries and it is the third largest settlement in Dorset after Bournemouth and Poole.
The history of the town stretches back to the 12th century and includes roles in the spread of the Black Death, the settlement of the Americas and the development of Georgian architecture.
But it remains first and foremost a very popular coastal town known as being "a gateway town to the Jurassic Coast" Weymouth is ideal as a place to call home or as a place to enjoy its holiday atmosphere.
Seated on a beautiful bay, Weymouth boasts one of the finest beaches in Dorset.
It boasts a pretty seafront lined with Georgian buildings, a traditional fishing harbour surrounded by pastel-painted houses, and a Blue Flag sandy beach lined with attractions and food stalls, making it perfect for families.
Weymouth is also located within Dorset's Area of Outstanding Natural Beauty, so you have the advantage of exploring the countryside as well as coast.
A very energetic social calendar ensures everyone is happy and active all year round. The annual firework festival, seafood festival, dragon boat race, carnival and host of the magnificent Tall Ships Race, Weymouth residents are never bored.
Having undergone massive regeneration and upgrading over the past 10 years or so, Weymouth has emerged even better than before but with much of its original character still intact.
Christchurch
Christchurch is certainly another worthy addition to our list of the best Dorset coastal towns.
Located to the east of Bournemouth, the town offers excellent connections to London as well as the rest of the South East and Dorset.
Christchurch's excellent rail network links the town to Bournemouth in around 8 minutes!
Residents can also reach in Southampton in 49 minutes.
Those looking to get to the capital will arrive in London in just under two hours!
Moving to Christchurch offers residents a particularly interesting local arts scene.
There are also a host of excellent outdoor activities to fill your free time with!
Living in Christchurch means you can choose between six beaches.
Each beach has its own unique offerings.
Some of the town's beaches are catered towards families with a few even permitting dogs the whole year round!
Moving to Christchurch provides some excellent sea views as well as top-notch commuter connections.
If you want to move to the area you can anticipate having to pay between £380,000-£650,000 for a detached property.
Price also start at around £150,000 for a one-bedroom flat.
Christchurch is certainly a worthwhile inclusion in our list of top Dorset coastal towns!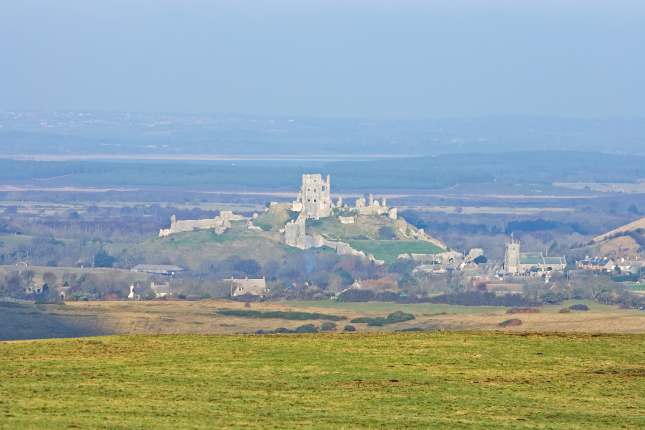 Swanage
With tourism playing a huge part in Swanage's economic success it is no surprise that this pretty town offers an abundance of interesting things to discover.
Originally a small port and fishing village which flourished in the Victorian era, it remains a popular location for holidaymakers today particularly so with Covid ensuring we all take a holiday on our home ground.
Highly desirable, Swanage has some stunning properties in its portfolio.
A new luxury penthouse apartment is for sale currently. Situated within a prestigious development of fourteen superb contemporary styled apartments, occupying an elevated clifftop position the two-bedroom home is for sale at a cost of £765,000.
Travel connections may not be exemplary, but what Swanage lacks in this area, it can compete against any when it comes to breath-taking sights and exciting outdoor activities.
It's not all beaches and cliffs – Swanage has a great selection of shops, perfect for a rainy day or an afternoon's retail therapy.
Plus, its steam railway rides have been wowing visitors for many years. It even offers a dining option if you fancy a cream tea or a slap-up meal along the journey to Wareham and back.
The epitome of a traditional British seaside town is precisely what makes Swanage so extraordinary – minimal noise, community events and peaceful throughout the year.
Seatown
3 miles west-southwest of larger Bridport, Seatown is actually a hamlet, laying within the civil parish of Chideock.
Tiny but noteworthy, Seatown comprises a small number of houses, a holiday park, some holiday cottages and "The Anchor" pub which serves the best food in the area.
The shingle beach is privately owned and is a favourite amongst fishermen, fossil hunters and walkers alike.
This little-known beach also provides some incredible views of the Dorset coastline and sits within one of Dorset's Areas of Outstanding Natural Beauty.
As its size is very small buying a home here is almost impossible as very rarely does anyone sell, you have to be very lucky to bag a property in this part of Dorset.
Many visitors discover the small bay and hamlet when walking the Coastal Path which runs through the area.
Others come to enjoy the Seaton Jurassic Centre (www.eatonjurassic.org).
Showcasing some of the amazing fossils found along its local shoreline.
The centre has lots of hands-on activities and a fun garden to explore.
A great attraction whatever the weather!
No visit to Seatown would be complete without seeing the Golden Cap.
The famous landmark rises to 627 feet, making it the highest point on the south coast of England.
The name derives from the distinctive outcropping of golden greensand rock present at the very top of Seaton's highest cliff, a pretty impressive sight.
With limited amenities, nearby Bridport (3 miles) is where residents head to if they need anything more than basic supplies.
Bridport has an excellent mix of independent and multiple retailers, as well as a twice weekly street market and a monthly Farmers' Market, Craft Market, Artisan Market and Vintage Market.
Bournemouth
Bournemouth is certainly one of the top Dorset coastal towns.
An excellent choice for students and young professionals alike, the town offers an outstanding nightlife.
In fact, Bournemouth is great for all!
It was voted as the UK's Best Seaside Town in the British Travel Awards 2017!
Bournemouth boasts some stunning beaches, various picturesque seaside walks, as well as a host of great things to do.
Living in Bournemouth means you may even get a little more sunshine than most!
The town enjoys an average of 7.7 hours of sunshine on a summer's day, far above the UK average.
This is certainly a great reason to move to the area.
Living in any of these Dorset coastal towns offers excellent dining options.
Bournemouth is certainly no different!
Restaurants include a host of cuisines.
Ranging from traditional fish and chip shops to some more 'fancy' cafes and restaurants.
Living in Bournemouth means you are extremely well connected!
It is just under two hours away from London by train.
Ideal for those who do not desire the hustle and bustle of the capital city.
Bournemouth is perfectly located near to the magnificent New Forest, Dorset countryside and the historic Jurassic coastline!
Bournemouth is the perfect base to explore Britain's diverse nature.
Clearly, living in Bournemouth is a highly desirable prospect!
Bournemouth certainly deserves its place as one of the top Dorset coastal towns.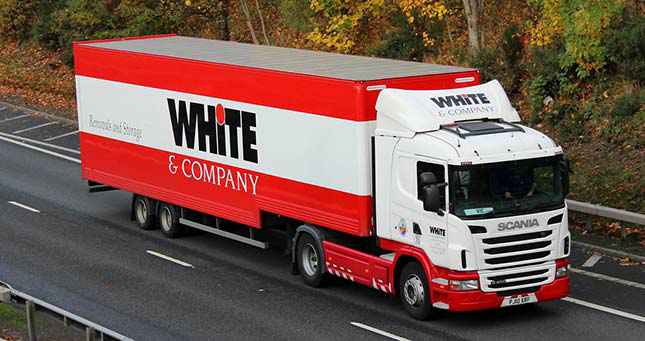 Ready to Move to One of These Dorset Coastal Towns?
Have you picked one of these Dorset Coastal Towns to start living in?
Dorset Coastal Towns offer buyers some great homes for families, young professionals, retirees and everything in between!
If you want to move to one of these Dorset Coastal Towns and have found the ideal home, we are here to help you start moving.
You can start planning your dream move with the assistance of our Dorset Removals service from White & Company today.
White & Company are also pleased to announce our new video survey service.
During these unprecedented times, we can safely conduct remote removals surveys.
We can gather all the relevant information for your move from the comfort of your own home.
So, give us a call today or fill out a quick quote form to see how we can get your dream move to one of these Dorset Coastal Towns in the works.