Selling Your Home & House Removals Bedford
Selling your home and house removals Bedford: If you are organizing house removals Bedford, you will need to arrange a whole host of things to ensure that everything runs smoothly. Finding a good house removals company is paramount to the day running smoothly.
Almost everyone finds that they need to move home at some time in their lives and often on many occasions. This may be when they buy their first home, move to a larger house as the family grows, have to relocate for a new job or maybe wish to down size once they have retired. House removals are one of the most stressful life events with the average person moving home five times during their lifetime.
White & Company have been based in Bedford for over 145 years and can provide a full removals and storage solution. As founder members of BAR, FIDI & OMNI, White & Company can provide for a local move, anywhere in the UK, Europe or to an international destination.
With 61 per cent of people placing the ordeal at the top of their stress list, it is essential to use a reputable company to carry out your house removals. Ideally it is always advisable to choose a removals company that is a member of BAR, FIDI & OMNI, to make sure the company you choose meets the highest standards within the removals industry.
Free Survey & Quote
We are happy to arrange for one of our home surveyors to visit your existing property and provide you with a free, no obligation house removals quotation. This will cover all aspects of your move and will ensure a suitable vehicle size and crew are allocated for your move. We will also check on access to both properties and be able to advise on any special items that will need moving, such as antiques, fine art, wine etc.
White & Company Removals Storage & Shipping
Lund-Conlon
Wolseley Road
Kempston
Bedford.
MK42 7EF
Tel: 01234 817 309 for a free moving quote
E: hq@whiteandcompany.co.uk
www.whiteandcompany.co.uk
Opening Times:
Mon 09:00 – 17:00
Tue 09:00 – 17:00
Wed 09:00 – 17:00
Thu 09:00 – 17:00
Fri 09:00 – 17:00
Sat 09:00 – 12:00
Sun Closed
Use an Accredited House Removal Company
There are a large variety of companies ranging from the man with a van, to much larger nationwide removals companies. It is advisable to always choose a company that is a member of BAR (The British Association of Removers). Choosing a BAR Member will ensure everything goes to plan and you will have the added peace of mind that comes from using a reputable and professional house removal company.
In the unfortunate event that something goes wrong, you will have someone to turn to. A BAR member is easily recognised by their membership badge. When choosing a house removal company, check that they have this badge displayed on their website and all documentation.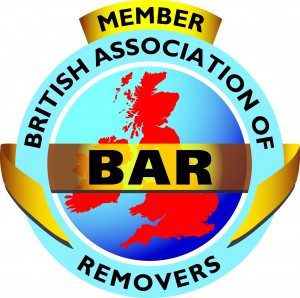 There are a number of things, which you can do to ensure everything runs smoothly.
House removals Bedford tip 1: Hire a reputable removal company
Hiring the right removals company will make all the difference, if you're after a stress-free moving day. Consider if you would like them to take care of all the packing, some of it or whether you would like to pack yourself. White & Company have been based in the area for over 145 years and provide a full removals & storage solution. As founder members of BAR, FIDI & OMNI White & Company can provide for a local move to anywhere in the UK, Europe or to any international destination: www.whiteandcompany.co.uk
House removals Bedford tip 2: Book your removals company as soon as possible
Dependent on the time of year you are looking to move, planning ahead and booking your removals company is key to a stress free day. If you moving during the busy summer months, you will need to give at least four weeks notice in order to secure your booking.
House Removal Bedford tip 3: Get someone to look after young children
Because moving house can be very stressful and also a very emotional time, it is best to get someone to look after young children, so they do not become bored or fractious. The same goes for pets, it is best to arrange for them to go into kennels or a cattery as they often become disorientated.
House Removals Bedford tip 4: Make sure everyone is informed
As soon as the removals team arrives, make sure they have your mobile number and you have a number to contact them in case of an emergency. You should also have the numbers of your bank, estate agent and solicitor. Also make sure you have arranged a time to collect the keys to your new house.
You will also have to inform all your utility companies that you are moving and perhaps select different suppliers at your new home.
If you are moving to Bedford you may want to visit www.uswitch.com, to find the most economic supplier in your area.
Having moved to Bedford you may wish to change your TV or Internet provider, simply visit www.broadbandchoices.co.uk/tv
House Removals Bedford tip 5: Pack a survival box to go with you in the car
This should include tea, coffee, milk, kettle and mugs. Some snacks, a can opener and some eating utensils. Some basic tools and a first aid kit along with any necessary instruction manuals for the appliances you are moving. It is also wise to carry on your person any medication you may need.
House Removals Bedford tip 6: Start moving day early
This is the day to set the alarm and get started early, as there will be a number of things you will need to do. Start by stripping the beds and packing up last minute things. Dismantle furniture, take photos of energy meter readings when you leave and also when you arrive at your new home, to avoid being overcharged.
Taking pictures of wire fittings on electronic equipment such as computers will also help you set them up properly when you arrive. Set aside the hoover and cleaning equipment for your last-minute clear up before you leave the house.
House Removals Bedford tip 7: Make sure your removalist has storage space available
Often when you move into a new property you may want to redecorate or carry out building works. If this is the case, ideally you will want to store some of your larger pieces of furniture until the work has been completed. If you choose a removal company who has storage facilities, then they can store these pieces for you until you are ready to receive them at your new home.
There are many reasons why you may also require storage facilities. This could be due to a delay between the sale and purchase of your new home. You may be working abroad or carrying out some renovations on your new home before you move in. Maybe you need storage prior to the sale of your home to maximise the potential of your property to prospective purchasers by clearing some of the clutter.
White & Company UK Storage
Perhaps you would like to store items during months they are not required, such as bulky garden furniture and other outdoor equipment. Whatever your reason, White & Company can offer competitive rates for both domestic and business customers at our 19 storage locations throughout the UK. Our storage facilities are clean, dry, secure and accredited to European standard BS EN 14873. You can rest assured that everything you leave with us will be safely stored until you need it.
House Removals Bedford tip 8 – Check your insurance cover
Do not assume that the removal company you have chosen will have adequate insurance to cover all your valuable items. Make sure you have checked the small print and arrange additional cover if necessary. When using a BAR registered removal company, you will have the piece of mind that they will be working to the terms and conditions of a BAR member, and will offer a degree of limited liability insurance. However, it is highly recommended that you ensure that you have arranged adequate cover.
Having moved to your new home in Bedford you may find the following information useful:
About Bedford
Bedford is the county town of Bedfordshire, it is one of the smallest counties in the UK and has a population of approximately 106,940. Set in a rich rural landscape, Bedford is host to many areas of outstanding natural beauty and attractions, including stately homes and gardens, woodland walks and nature reserves, country parks and world-famous animal parks.
The map below shows the location of Bedford
London Commuting from Bedford
Bedford enjoys excellent transport links to London a train journey of just over 30 minutes, making it an attractive place to live work and visit.
Buying Your New Home
Once you have found a new home and your offer has been accepted, you will need to arrange various things in order for everything to progress. First, you will need to select a conveyancing solicitor as it is essential to get the legal side in place early on to ensure a smooth legal transaction of your property sale and purchase.
It is also worth taking some time to research the facilities and amenities of your new area. Here is a list of things in the Bedford area, which may prove helpful:
Estate Agents & House Removals Bedford
Open House Estate Agents
Broadway House, 4-6 The Broadway, Bedford MK40 2TE
01234 364000
www.openhousebedford.co.uk
Connells Estate Agents
42 Allhallows, Bedford MK40 1LN
01234 345303
www.connells.co.uk
Lane & Holmes – http://www.hea.co.uk/
Absolute Estate & Letting Agents – http://absoluteagents.co.uk/
Solicitors & House Removals Bedford
Lawtons Solicitors
11 Lurke St, Bedford MK40 3HZ
01234 356235
www.lawtonslaw.co.uk
Premier Solicitors – http://www.premiersolicitors.co.uk/
Sharman Law Solicitors – http://www.sharmanlaw.co.uk/
Woodfines Solicitors – http://www.woodfines.co.uk/family-solicitors-bedford
Schools & House Removals Bedford
The Bedford Girls School – www.bedfordgirlsschool.co.uk
Bedford Modern School – www.bedmod.co.uk
Bedford School – www.bedfordschool.org.uk
Doctors & House Removals Bedford
Goldington Avenue Surgery – http://www.goldingtonavenuesurgery.co.uk/
De Parys Medical Centre – http://www.deparysmedical.co.uk/
Lansdowne Road Surgery – http://www.lansdownesurgerybedford.co.uk/
Dentists & House Removals Bedford
Kimbolton Dental Practice – http://www.kimboltondentalpractice.co.uk/
Bedford Dental Practice – http://www.bedforddentalpractice.com/
M & N Dental Practice- http://www.mndentalpracticebedford.co.uk/
Vets & House Removals Bedford
Acorn House Veterinary Surgery – http://www.acornhousevets.com/home.html
Scott Veterinary Clinic Ltd – http://www.scottveterinaryclinic.co.uk/
Vets 4 Pets Bedford Vet Practice – http://www.vets4pets.com/find-a-practice/vets4pets-vets-in-bedford/
Leisure activities in & around Bedford
If you are planning a day out, there is plenty to do in Bedford, why not visit one of the following attractions:
Priory Country Park – www.priorycountrypark.co.uk
The Higgins Art Gallery& Museum
The John Bunyan Museum – www.bunyanmeeting.co.uk/museum
Museum of Military Intelligence – www.army.mod.uk
Artful Dodger River Trips and Boat Hire – www.danishcamp.co.uk
Woburn Safari Park – www.woburnsafari.co.uk
Whipsnade Zoo – www.whipsnade.co.uk
Gyms & Leisure Centres in Bedford
Bedford International Athletic Stadium – www.athleticstadium.bedford.gov.uk
Blue Peris Mountain Centre – www.blueperis.co.uk
Bunyan Sports Centre – www.bedford.gov.uk/bunyan
The Gym Group – Unit 2A Alban Retail Park London Road, Bedford MK42 0NW
0330 055 3932. www.thegymgroup.com
Fitness First – Aspects Leisure Park Newnham Avenue, Bedford MK41 9LW
0844 571 2811. www.fitnessfirst.co.uk
Oasis Beach Pool – Cardington Road, Bedford MK42 0BZ
01234 272100. www.fusion-lifestyle.com
Robinson Swimming Pool – Park Avenue, Bedford MK40 2JZ
01234 357157. www.fusion-lifestyle.com
White & Company Have Branches In The Following Locations
Bedford
London
Bournemouth
Dunfermline
Farnborough
Forres
Guernsey
Harrogate-York
Jersey
Knaresborough
Lancaster
Leeds-Bradford
Plymouth
Portsmouth
Southampton
Telford
Winchester
Overseas Removals
If you are moving away from Bedford and considering an overseas location in the sun, White & Company ship to all European and International destinations.
White & Company are also proud winners of the British Association of Removers 'Overseas Mover of the Year' Competition 2016 and finalists in the 2017 competition.