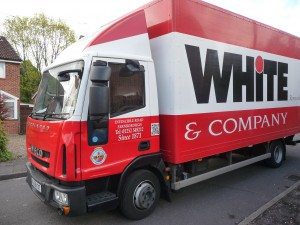 Houses For Sale In Bilbao If Moving To Spain
If you are considering moving to Bilbao in Spain and searching for houses for sale in Bilbao -Spain: White & Company have been providing a full removals and storage solution in Bilbao for the past eighty years. As founder members of BAR, FIDI & OMNI. White & Company can provide for a local move, to anywhere in the UK, to Europe or to any international destination.
White & Company are also proud winners of the British Association of Removers  'Overseas Mover of the Year' Competition 2016 and finalists for 2017

White & Company Have Branches In The Following Locations
Bedford
London
Bournemouth
Dunfermline
Farnborough
Forres,
Guernsey
Harrogate-York
Jersey
Knaresborough
Lancaster
Leeds-Bradford
Plymouth
Portsmouth
Southampton
Telford
Winchester

Transporting My Effects and Houses For Sale In Bilbao, Spain
With moving being such a stressful event, it is advisable to use an experienced international removing company such as White & Company, to help alleviate as much of the stress as possible, you can rest assured that with its eighty years of experience in the removal industry, we can help make the whole process a lot less traumatic.
White & Company successfully move thousands of families around the globe each year. We can arrange a free no obligation quotation which is carried out by one of our qualified surveyors, who will be able to answer any of the questions and concerns you may have. The surveyor will undertake a thorough survey to determine the volume of affects you wish to move, following which you will receive a written quotation.
Why Move to Bilbao and Houses For Sale In Bilbao, Spain
There are many reasons why people decide to emigrate to a different country, very often it is the weather or retirement. Being closer to family or loved ones is another popular reason. It could be that simply, you would like to experience the culture and differences a new country can offer. Whatever your reason may be, it is important to do your home-work before you go and find out a bit about your chosen destination.
The city of Bilbao, in Spain, has around one million inhabitants. It is a popular relocation destination for the British, not just because of the reasons listed above but added to this, the cost of living is cheaper than that of the UK. The city attracts many expat workers who find employment at the seaport or within one of the many factories and businesses that line the estuary of Bilbao.
Leisure Activities in Bilbao and Houses For Sale In Bilbao, Spain
There is plenty to do in your leisure time here. There are some fantastic restaurants, whether you like to dine in style at one of the cities exclusive restaurants or experience the fayre in a rustic tavern. No one can cook Paella like the Spanish!
There are plazas dotted around the city; Plaza Nueva is one of the more trendy spots. It has many bars and restaurants, which are surrounded by beautiful old architecture and quaint side lanes, making Plaza Nueva the perfect location for alfresco dining. It is the perfect place to stroll after dinner or just sit and enjoy some people watching with an ice cold Sangria. There are plenty of little shops doted through the lanes selling a range of products from food to jewelry and clothing.
If you enjoy the cultural side of life, Bilbao is home to Frank Gehry's iconic Guggenheim Museum. The museum is a must-visit destination for any culture lover. Santiago Cathedral is a Catholic Cathedral in the city of Bilbao. The temple was originally built during the 14th-15th centuries as Bilbao's main parish church, and was only declared a cathedral in 1950.
Estate Agents and Houses For Sale In Bilbao, Spain
Once you have made the decision to move, some of the questions you may have might include: the cost of property in Bilbao and what type of property you can afford for your money?
There are lots of good estate agents in Bilbao, a few are listed below and they will be happy to assist you once you have decided on which areas interest you. As with most cities each area has its own unique charm, you may want a home near shops or close to schools. Whatever your choice may be, local estate agents have a wealth of knowledge and can help you pick the right neighbourhood to suit your needs.
Rightmove – www.rightmove.co.uk/overseas-property
Libercasa – www.libercasa.co.uk/bilbao/property
Inmo Berri – www.inmoberri.com
Property Prices and Houses For Sale In Bilbao, Spain
There are no restrictions for foreigners purchasing property in Spain. Investment potential remains good in Bilbao, as it is away from the southern Spanish coastal resorts which have traditionally been the main focus of foreign buyers. Recent financial investments in the development of Bilbao look set to see the city's profile continue to increase, making purchasing here attractive.
You do get more house for your money and there are a lot of properties on the market at the moment. A three bedroomed family home in Vizcaya, just outside of Bilbao is for sale for Euros 180,000 (£140,000). If you prefer a property in the old quarter, this does come with a premium. However, there are some stunning apartments to be found, many still with their original features. Prices are around Euros 500,000 (£390,000) for a two bedroomed apartment.
Education and Houses For Sale In Bilbao, Spain
You will of course want to ensure that your children receive the best education possible whilst living in Spain. Generally, education provision is of a good standard, with a range of schools to choose from. Education in Spain is regulated by the Ley Orgánica de Educación (LOE, Organic Law of Education).
Education is compulsory and free for all children aged between 6 and 16 years, and is supported by the national government, together with the governments of each of the country's 17 autonomous communities.
The Spanish Bachillerato is the post-16 stage of education, comparable to the A Levels/Higher (Scottish) in the UK, the French Baccalaureate in France or the International Baccalaureate. See the web sites below for further information:
• Spanish Ministry of Education – www.mecd.gob.es/portada-mecd/
• The Spanish university system
• Spain Study Guide for International Students – www.studying-in-spain.com/
• www.spanishresidency.co/areas/bilbao/schools-in-bilbao
Useful Information about Bilbao and Houses For Sale In Bilbao, Spain
Other useful tools for anyone considering emigration are on-line forums. A great way to make contact with other expats who have already settled in Bilbao. You can get answers to some of the questions you might have and it is always good to hear of peoples personal experiences, so that you can avoid any pitfalls before they occur. A highly recommended site is ExPat.com. As well as its own forum, it has some very practical information covering a range of practical issues such as:
• Visas
• Job finder
• Tax
• Banking
• Studying
• Heath Care
• Pet Travel
Spanish Embassy and Houses For Sale In Bilbao, Spain
The Spanish Embassy in London is the official representative body of the Spanish Government in the United Kingdom of Great Britain and Northern Ireland.
Information regarding the Embassy of Spain in London, other Spanish embassies around the world, Spanish visa information, visa forms, tourist information, local weather, maps, Spanish public holidays and travel information can be obtained here.
www.spain.embassyhomepage.com/
Shipping To Spain | Houses For Sale In Bilbao, Spain | Removal Companies Bilbao, Spain
White & Company have been providing a removals service since 1871. Call  01489 858027 for a free home visit and moving quote