International Removals To Australia
White & Company, your first choice for International moving
Moving To Australia
Are you planning a move to Australia. It's a popular choice for expats with more than 20,000 miles of beautiful coastline, the Great Barrier Reef and sub-topical rainforests. Sydney may seem the obvious choice but don't rule out Brisbane in Queensland with its stunning Gold Coast and it's thriving city. Perth in Western Australia is another good choice, where the mining boom has lead to a strong economic expansion and the need for a bigger workforce.
White & Company are proud winners of the British Association of Removers 'Overseas Mover of the Year' Competition 2016.
 
Property prices if you are thinking of moving to Australia
The average house prices in a city centre is expensive, it can cost more than $1m. Check out Numbeo, which will give you the price per square metre in your chosen city. If you are moving to Australia and need to find a property for sale, estate agents promote their houses on the major property sites such as: http://www.realestate.com.au/buy
Schools if moving to Australia
Australia has a good range of schools. Help to select a school can be found at: http://www.australianschoolsdirectory.com.au/
Local Information
When you first move to a new city finding your way round the local taxes and requirements can be daunting, a quick visit to the following website can help you on your way. Simply visit http://www.gov.au/
Travel
Almost all expats living in Australia find it best to have a car. Most people moving to Australia are able drive using the licence from home for the first three months. However, licensing regulations vary from state to state, and you would be advised to familiarise yourself with the rules within each particular territory before relocating.
Due to the long distances between major cities, flying is the most popular travel option. The main airlines that operate domestically between Australian cities are, Virgin Australia, Qantas, Tiger Airways Australia and Jetstar.
This item is brought to you by www.whiteandcompany.co.uk the international removals storage and shipping company serving Quebec and the surrounding area.
Currency Conversion If Moving To Australia
The Australian dollar has plummeted to an all time low, making this the perfect time to chance your currency ahead of your move. Our GBP has gained 2 cents against the Australian dollar, trading at around the 1.99 level – which is the highest it's been since August 2009.
When moving overseas making sure you get the best exchange rate possible is essential to starting your new life on a sound footing. White and Company has an exclusive arrangement with The FX Firm.
Simply call us on Tel: 01494-857672 or follow the link to see what additional monies you will receive compared to using your high street bank and to set up a free account. https://www.whiteandcompany.co.uk/foreign-exchange/
Plan early for International Moves
The earlier you plan your International moving the less stressful the move should be. To start planning contact our experienced team who will take you through the process.
Contact your local branch using our branch locator where you will find a telephone number to call, or complete the contact form below and we will contact you. When you are ready we will arrange for one of our surveyors to visit you.
For further information of the services White and Company offer read our online international moving brochure.
We have the resources to ship your household goods door to door (including cars, boats, motorcycles, etc.), to any part of the world, no matter how remote, through our international, quality-assured network of business partners.
Whether you need to send an entire household or you a just shipping boxes to South Africa, by sea or by air, we'll get it there, safe and sound, anywhere in the world. And we will provide you with two months storage absolutely free of charge.
Full container or part load shipping worldwide
Two months' free storage
Airfreight
Car shipping and crating
Customs clearance
Comprehensive insurance
Storage in UK or at destination
Full financial protection for pre-payments through the overseas group of the British Association of Removers

Packing solutions
Packing for international shipping from UK is a specialist skill, so we have experienced and professionally-trained staff to provide this service for you. We'll decide what type of packing and wrapping is necessary during the pre-move survey.
We'll use modern, environmentally-friendly, purpose-made packing materials to pack all your possessions ready for moving.  China and glassware are wrapped in special paper and then packed in double-thickness cartons; furniture is wrapped in bubble blanket for extra protection; and items requiring specialist care, such as antiques, can be packed in made-to-measure wooden crates if necessary.
Air Freight Services
Air Freight and LCL, (Less than Container Load) cargo is over-cased in purpose–built, tri-wall board cases for optimum protection.
We ship globally to thousands of destinations, including Europe, Canada and shipping to South Africa. For further information on shipping goods to Australia or anywhere else, contact our international office on 01489 854175.
Marine Insurance
We are proud of the International Moving service we provide our customers and we always try to minimise problems during the moving process.
However, it pays to be aware that your possessions are exposed to a number of inherent risks which are outside our control whilst your goods are in transit and/or storage. We recommend that you consider protecting your valuable personal possessions whilst in transit and/or storage with our "All Risk" Marine Standard Liability cover.
Marine Insurance Cover is offered to you on receipt of a completed Overseas Valuation Form.  Such Marine Insurance Cover is 'Comprehensive' and 'All Risk' and is based on the values as declared by you on the Overseas Valuation Form.  There are certain exclusions as detailed within our Terms and Conditions.
Limit of Liability
If you have owner packed possessions, or do not provide us with a declaration of value, or if you do not require us to accept Marine Insurance, then our liability to you will be a maximum of £40 per item if anything is lost or damaged as a result of negligence or breach of contract on our part.
Please see our Terms & Conditions for full information. For further information on our international removals to Australia or to discuss shipping to Canada, South Africa or Europe, contact our international office on 01489 854175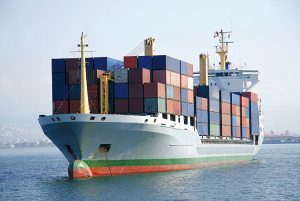 When it comes to International moving let White & Company do the hard work. Complete and submit the contact form below and one of our experienced team will contact you.
Alternatively use our branch locator to find your local branch.
0 Comments