Removals to Russia
Removals Russia, When considering relocating to Russia and are looking for removals Russia, White & Company are one of the UK's largest international removals companies, shipping household possessions, not just to the key migrant destinations (Australia,, Canada, New Zealand, Spain, South Africa and the USA), but worldwide. White & Company are also proud winners of the British Association of Removers 'Overseas Mover of the Year' Competition 2016.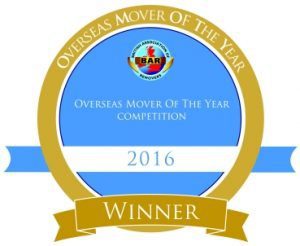 Moving household possessions for international removals & shipping is not like moving in the UK or even to Europe. International removals are a completely different process involving export packing, container loading, shipping, export documentation, customs and the observance of local regulations and procedures at destination. But that's all in a day's work for us.
Planning Removals Russia
Planning your removals Russia as early as possible is definitely beneficial, as there are a host of things that need to happen to ensure your move takes place on the day or days you require. One of your first tasks should be to arrange a written quote from an established removal firm. White & Company can offer a free home survey to assess your moving and storage requirements. Our professional surveyor will identify the volume of goods you are moving and supply you with a detailed quotation within 48 hours of a home visit.
Removals Russia Packing
Once you have decided to move home, you should consider if you wish to pack your possessions yourself or arrange for a removal company to pack some or all of your effects for you. If you choose to pack yourself, White & Company can supply you with top quality packaging materials delivered to you as and when you need them.
If you would like us to pack for you, we will ensure china and glassware are wrapped in special paper and then packed in double-thickness cartons; furniture can be wrapped in bubble blanket for extra protection; and items requiring specialist care, such as antiques, can be packed in made-to-measure wooden crates.
With over a century of experience of moving families across the world, we will take care of all the details and help you achieve a stress free move. White & Company are founder members of BAR, FIDI  and Omni. White & Company your first choice.
Head Office
White & Company PLC
Hillsons Road
Botley
Southampton
SO30 2DY
Tel: 01489 854703
E: hq@whiteandcompany.co.uk
Opening Times:
Mon 09:00 – 17:00
Tue 09:00 – 17:00
Wed 09:00 – 17:00
Thu 09:00 – 17:00
Fri 09:00 – 17:00
Sat 09:00 – 12:00
Sun Closed
Alternatively contact your local branch.
Where is Russia
The map below shows the location of Russia

Schools and Removals Russia
There is a good choice of schools in Russia:
The International School of Moscow (Krylatskoe)
English International School
Cambridge International School
The English International School Moscow West
Location and Removals Russia
The housing market in Russia is buoyant. You can expect to pay approximately 1,759.00 $ per square metre in the centre and 1,146.00 $ towards the outskirts. Please be aware that currency rates fluctuate. To get the best foreign exchange rates visit White & company/foreign-exchange
Leisure and Removals Russia
Russia is a vast, mysterious and the world's largest country with over 11 time zones and sub zero winters. Most people moving to Russia are likely to live in Moscow or St Petersburg and anyone making the move should be prepared for a culture shock, the weather can be extreme, the language difficult to master and the power of vodka should never be underestimated!
That said, the glittering palaces, ancient walled fortresses, and eastern-spired churches are all enchanting. You can follow in the footsteps of literary greats such as Tolstoy and Pushkin or holiday in Krasnaya Polyana, which was smartened up for the 2014 Sochi Winter Olympics.
Russian Currency Conversion
When moving overseas, making sure you get the best exchange rate possible is essential to starting your new life on a sound footing. White & Company has an exclusive arrangement with an FX Firm (foreign exchange company). Simply follow the link below to see what additional monies you will receive compared to using your high street bank and to set up a free no obligation account. White & Company/foreign-exchange
Because it is so important that your possessions are cared for throughout your entire process, White & Company are members of the British Association of Removers and all services performed are in accordance with European standard BS EN 12522.
 
Relocating To Russia
This removals Russia item is brought to you by www.whiteandcompany.co.uk the International removals, storage and shipping company serving Russia and the surrounding Countries.
If you are looking to move to Russia, White & Company have been providing an International removals, packing and storage service for over 145 years and are founder members of BAR, FIDI  and Omni.
White & Company also provide specialist removal services to locations around Europe and all international destinations
Removals Russia | Removal Companies Russia | Removal Firms Russia
White & Company International removals, storage & shipping. Call 01489 854703
To read independent reviews from our customers visit Referenceline