White & Company are teaming up with YMCA Fairthorne Group for a second year in a row to help deliver the street sleep charity event.
The event will take place on The Esplanade, Westquay in Southampton on March 20th, 2020, running from 6pm until 6am the following day.
The evening is set out to be another inspiring event with a wonderful atmosphere and, more importantly, creating awareness of the changes we can make.
You can help vulnerable young people have a healthy, happy future by signing up to take part, or donating now.
Food and beverages will be provided and a chance to sleep outdoors for the evening, allowing time to contemplate on how participating has made a difference.
The event aims to raise both money and awareness surrounding vulnerable young people.
To do this, participants experience what it is like to sleep on the streets.
YMCA helps vulnerable young people, helping to provide them with the same opportunities in life that many of us take for granted.
Last year's event in March saw 69 participants taking part; however, this year YMCA are hoping to have over 100 participants.
White & Company will be helping by delivering new and recycled boxes to those who will be braving the cold in March 2020.
The fantastic event has had great results in the past, the previous Street Sleep day saw £17,000 raised, with next being even bigger and better than the last.
YMCA supports more than 100 young people in Southampton. Many of whom are experiencing challenges through homelessness, poverty and mental health.
Providing these vulnerable individuals with advice and life skills to help them live independently, YMCA helps those struggling to get back on their feet and live their lives to the fullest.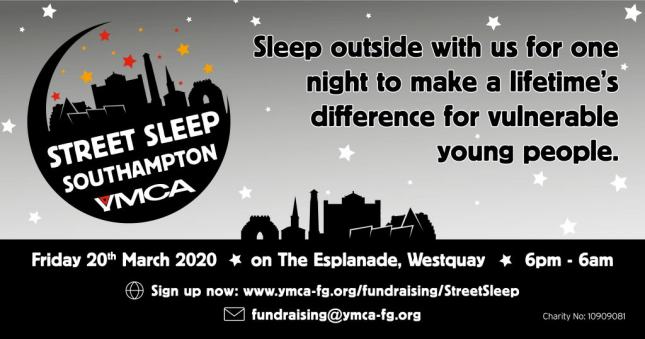 If you have any questions or are interested in volunteering for YMCA Street Sleep 2020, please email Corin Ball at fundraising@ymca-fg.org to find out more or click the following link:
https://ymca-fg.org/fundraising/streetsleep